As you can see in the statistics below, most couples now met online.
The School of Humanities and Sciences drew on a nationally representative 2017 survey of American adults and found that about 39 percent of heterosexual couples reported meeting their partner online. https://news.stanford.edu/2019/08/21/online-dating-popular-way-u-s-couples-meet/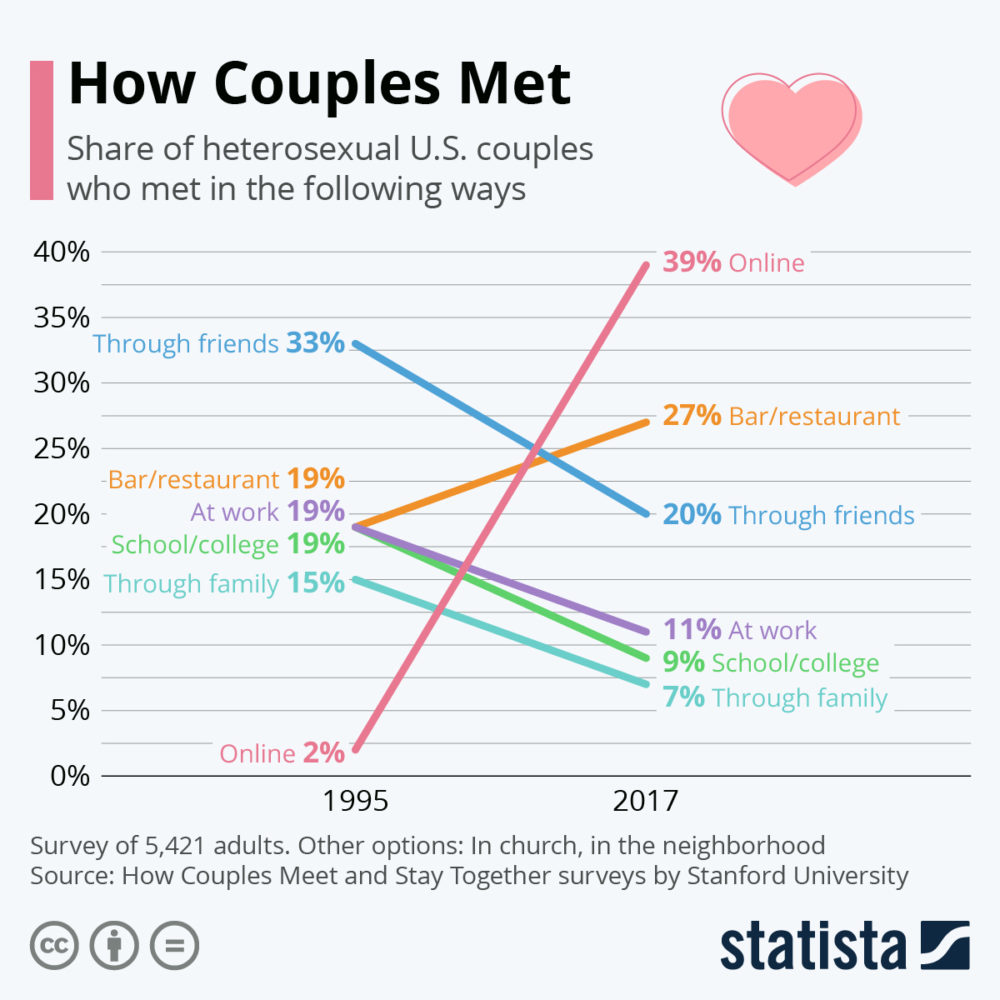 Going forward, I plan to offer more events about how to define, attract, and identify your Integral Soulmate, including online dating.
I wrote the newsletter/blog post about online dating below in August 2013 at https://integralrelationship.com/dr-keith-witt-on-online-dating-and-aryas-and-kirks-amazing-integralsingles-com-love-story/
I find it most important to have a clear and specific profile and to ask deep (copy-paste) qualifying questions up front to weed out the "players".
1. Post engaging and authentic profiles that speak uniquely to the partner they want to attract (click here if you would like help with this from me) and current, representative photos.
2. Interpret profiles from an Integral perspective and ask pertinent questions before going on dates.
3. Consider increasing mobility of singles, especially at higher levels of consciousness, to be with their soul-mate (see Arya's and Kirk's story below).
4. Understand which dating websites cater to which levels of consciousness and post their profiles there.
There are over 400 dating sites (in 2021 over 8000, including Apps like Tinder) that cater to, and attract singles from different levels of consciousness. The most popular for:
Red/Green: www.okcupid.com and www.plentyoffish.com, which are free, appeal predominantly to pre-conventional and post-conventional singles (~60% Red, ~20% Green, ~20% Amber and Orange) who often don't look for committed relationships or don't have the capacity for them. Even though there can be some gems there, especially on okCubid, you mostly get what you pay for.
Amber: www.eharmony.com caters to conventional/conservative singles who seek traditional committed relationships and marriage. I heard from several integral singles that eHarmony did not even accept their application because they could not match them with any of their claimed 20 Million members (go figure).
Orange: www.match.com, the most popular open/paid dating website, attracts mostly modern rational singles. It always amazes me how few Green and above singles one finds there, despite the millions of members they claim to have.
(I also found Tinder effective when used right)

Green: www.greensingles.com focuses on post-modern pluralistic singles and www.spiritualsingles.com on pre and transrational new-age singles, so beware of the pre/trans fallacy on both sites. Naturally, these and similar sites have smaller membership numbers than the websites above. There is also a new site http://meetmindful.com/
See also https://www.datingnews.com/apps-and-sites/ and https://www.datingadvice.com/online-dating/list-of-dating-sites
Teal and above: www.integralsingles.com is currently the only dating site that is exclusively for Integral and Transpersonal singles worldwide. In addition to the objective" right-hand" exterior attributes, members can also list and search for subjective interior levels of development in multiple lines (consciousness, spiritual, sexual, interpersonal, etc.) and personality types. We also just added a text field for Authentic Evolutionary Purpose. www.integralsingles.com currently has over 1000 female and male members, with new members joining almost every day. This may seem like a small number, but is roughly 10 times the amount of second-tier members than all the other dating sites above have combined.
We recently added a new feature that allows new members to contact other members for free and an affordable point system for additional message exchanges.
The most important thing to consider is that most second-tier evolutionary singles are willing to relocate to another state and even country to be with their soul-mate. With all the various right-hand factors that matter like compatible age, interests, lifestyle, dreams, goals, and purposes–let alone sexual attraction and emotional chemistry–it is just unlikely that he or she will live in the same area as you do (but it is possible so start there). So even if you can't relocate, your Integral soul-mate most likely will!
Read more about integrally informed online dating in Integral Relationships: A Manual for Men page 163 – 172.