Please join us every Tuesday for Integral Movie Night (European Time):
Tuesday's 6:00 PM UTC (11:00 AM PDT, 2:00 PM EDT, 20:00 Central European Summer Time)
https://us02web.zoom.us/j/88549179610
José Soutelinho from Portugal gave us wonderful suggestions for movies for stage referencing. I (Martin) added the movies with an *. You also find other movies that fit our modules.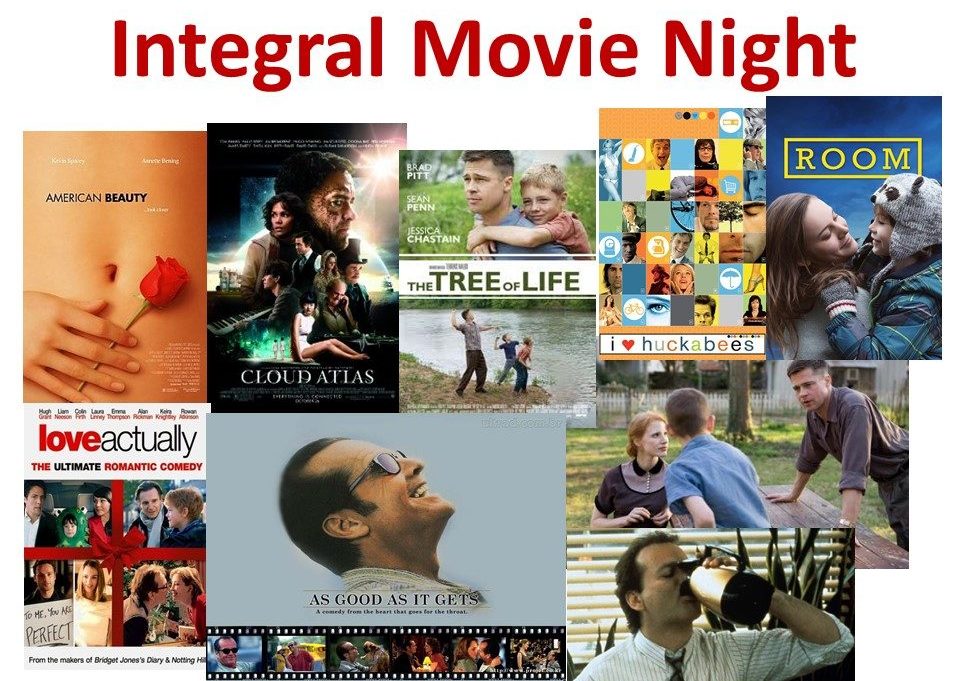 Some Movies are multi-level, some show characters at different levels clashing with each other, some show how characters are transforming from one level to the next over a longer period of time (e.g. "Groundhog Day" and "7 Years in Tibet").
You may also recognize if characters do better integration by becoming healthier at their level, e.g. Jack Nicholson in "As Good As It Gets", or if they truly go through a transformation which usually takes many years.
If you have additional suggestions, please share them with me in the format below (and say why you suggest them).
If you only watch two Movies I suggest "Cloud Atlas" (also a great book) and "American Beauty".
Stage 5 -> 1 – 127 Hours by Danny Boyle
https://www.youtube.com/watch?v=OlhLOWTnVoQ
https://www.imdb.com/title/tt1542344/?ref_=fn_al_tt_1
Stage 2 – Quest For Fire by Jean Jacques Annaud
https://youtu.be/EOtOkNgdZTU
https://www.imdb.com/title/tt0082484/?ref_=nm_ov_bio_lk1
(Netflix) * Stage 2/5 As Good as It Gets by James L. Brooks
https://www.imdb.com/title/tt0119822/
https://youtu.be/rrRl2QQKkI8
(Netflix) * Stage 2/5 Room by Lenny Abrahamson (Cognitive Prison)
https://www.youtube.com/watch?v=E_Ci-pAL4eE
https://www.imdb.com/title/tt3170832/?ref_=fn_al_tt_1
Stage 3 – Natural Born Killers by Oliver Stone
https://www.youtube.com/watch?v=zVizhLGaEmk
https://www.imdb.com/title/tt0110632/?ref_=fn_al_tt_1
* Stage 3 -> 4 – Groundhog Day by Harold Ramis
https://www.youtube.com/watch?v=1S6PTpUF7Eg
https://www.imdb.com/title/tt0107048/
Stage 4 – Rabbit Proof Fence by Phillip Noyce
https://www.youtube.com/watch?v=Lbnk8wSVMaM
https://www.imdb.com/title/tt0252444/?ref_=nv_sr_srsg_0
(Netflix) * 3 -> 4 – Seven Years in Tibet by Jean-Jacques Annaud
https://www.youtube.com/watch?v=LSyr_vJ5t3k
https://www.imdb.com/title/tt0120102/?ref_=fn_al_tt_1
* Stage 1 – 5 – The Tree of Life by Terrence Malick
https://www.imdb.com/title/tt0478304/?ref_=nv_sr_srsg_0
https://www.youtube.com/watch?v=RrAz1YLh8nY
Stage 5 – The Wolf of Wall Street by Martin Scorcese
https://www.youtube.com/watch?v=idAVRvQeYAE
https://www.youtube.com/watch?v=pabEtIERlic
https://www.imdb.com/title/tt0993846/?ref_=fn_al_tt_1
(Netflix) Stage 6 – Into the Wild by Sean Penn
https://www.youtube.com/watch?v=g7ArZ7VD-QQ
https://www.imdb.com/title/tt0758758/?ref_=fn_al_tt_1
Stage 6 – La Belle Verte by Coline Serreau
https://www.youtube.com/watch?v=HiuVYBpeK-g
https://www.imdb.com/title/tt0115650/?ref_=fn_al_tt_1
* Stage 5/6 – I love Huckabees by David O. Russell
https://www.youtube.com/watch?v=2eOLOmCjRPY
https://www.imdb.com/title/tt0356721/
Stage 5/6/? – Her by Spike Jonze (Love, Consciousness, Emotions)
https://www.youtube.com/watch?v=ne6p6MfLBxc
https://www.imdb.com/title/tt1798709/?ref_=fn_al_tt_1
Stage 1 to 7 – Cloud Atlas by the Wachowski brothers/sisters
https://www.youtube.com/watch?v=hWnAqFyaQ5s
https://www.imdb.com/title/tt1371111/?ref_=ttfc_fc_tt
* Stage 2 to 7 – American Beauty by Sam Mendes
https://www.youtube.com/watch?v=Ly7rq5EsTC8
https://www.imdb.com/title/tt0169547/?ref_=nv_sr_srsg_0
* Stage 2 to 6/7 – Same Time Next Year by Robert Mulligan (based on a play by Bernard Slade) 
https://www.imdb.com/title/tt0078199/
Stage 7 – Ted talk
https://www.ted.com/talks/thordis_elva_and_tom_stranger_our_story_of_rape_and_reconciliation
Other movies we watch(ed):
The Red Pill
https://www.imdb.com/title/tt3686998/
For a detailed article see: https://www.mercurynews.com/2016/11/08/bay-area-filmmakers-new-film-the-red-pill-is-a-bitter-one-for-feminists-to-swallow/
Other suggestions from Participants
Stage 5 – The Beauty Inside by Jong-Yeol Baek
https://www.youtube.com/watch?v=Ly7rq5EsTC8
https://www.imdb.com/title/tt0169547/?ref_=nv_sr_srsg_0