73% of Americans believe in soulmates. Most of them envision everlasting love, romance, sexual attraction, and happiness, and to live happily ever after once they fall in love–without having to do any ongoing work in their relationship. However, this is a magical fairytale fantasy that rarely, if ever, happens in real life. A more mature (integral) understanding is that there are three different types of soulmates.
What is the soul?
When I wrote Sex Purpose Love, I came across an academic book called The Complexity of Greatness: Beyond Talent Or Practice.
In it, the researchers found that various levels of genetically predispositioned talents for empathy, intelligence, creativity, and kinesthetics inspire us to practice to realize our unique human potentials to create more goodness, truth, beauty, and functionality.
I realized that these latent talents became part of our DNA through females who not only selected males for their looks, strength, power, and social status, but also for being kind to them, their offspring, and family/tribe (aggressive towards others), smart, entertaining, and practical (making useful things and fixing things around the house).
This made me see our soul as a genetically predisposition relational blueprint to (1) procreate with a biologically compatible soulmate (experienced through our sex-drive and attraction to certain people), to (2) realize our full human potential by being challenged by our transformational soulmate to ongoing learning, healing, growing, and awakening, and to (3) co-create more goodness, truth, beauty, and functioning with our transcendental soulmate who shares our passion and purpose--all driven by an all-pervasive procreative and co-creative impulse (which in itself has no inherent intelligence, Eros, or telos).
A Biological Soulmate is uniquely compatible with our DNA, values, needs/desires, and lifestyle to enact our Biological Purpose or Imperative to perpetuate our existence through self-sustaining processes such as:
1. Survival (food, shelter, safety)
2. Reproduction/Procreation (DNA/Raising offspring)
3. Group forming (Family/Community)
4. Territorialism
5. Competition/Cooperation
6. Quality of life seeking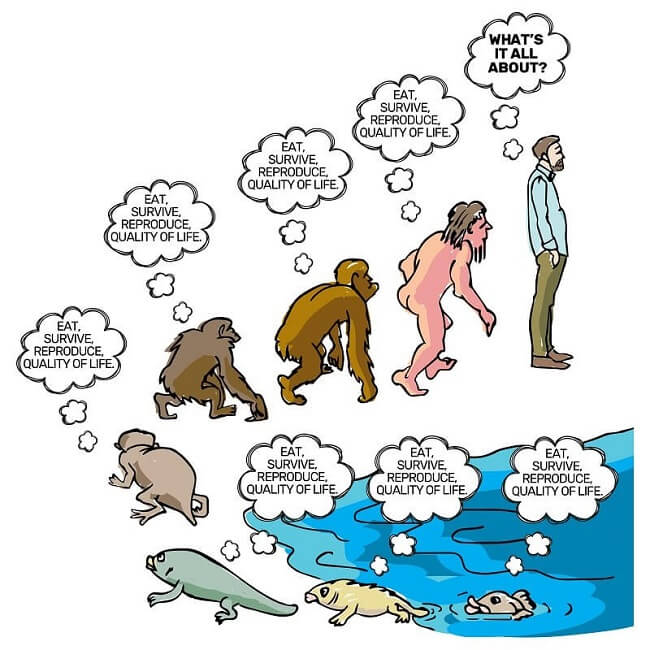 The Image above: Biological Purpose
A Transformational Soulmate (or worthy opponent) is an opposite and equal who is uniquely compatible to challenge us to realize our full human potentials through:
Ongoing learning that allows us to meet life's challenges and living our Biological, Growth, and Transcendental Purpose in ever better ways.

Ongoing healing that supports empathetic, cooperative, social fitness (or love) in service of our Biological Purpose.

Ongoing growing (in consciousness) that leads to increasing amounts of freedom (emancipation) through more available choices and wisdom to adequately respond to life's challenges (with the caveat that people at higher levels procreate less and focus more on quality-of-life-seeking.)

Ongoing awakening that leads to increasing levels of peace and joy through present moment to moment awareness and surrender to what is, without attachment, desire, hatred, and delusion.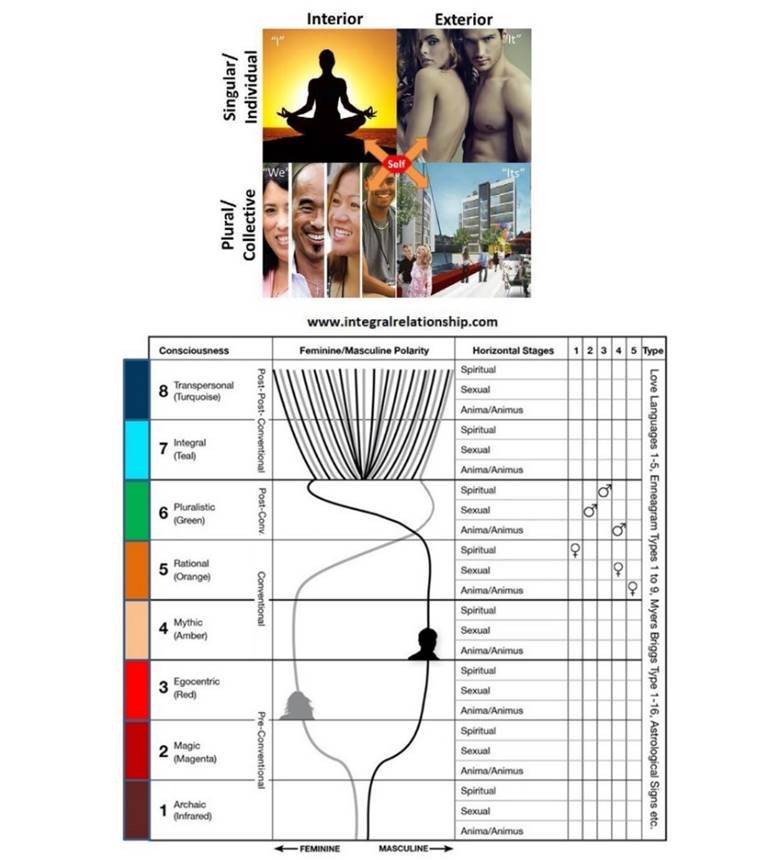 The image above: Four dimensions of being and personality matrix
A Transcendental Purpose Soulmate is uniquely compatible to co-create more goodness, truth, beauty, or functioning in service of our Biological Purpose and others by complementing our talents for empathy, cognitive intelligence, creativity/aesthetics, and practicality, as well as feminine/masculine polarities and types through:
Sharing the same joy, passion, concern, pain, desire, and urgency to make the world a better place in service of the Biological Purpose and others, by sharing the same calling (to maintain, improve, innovate) and depth (gross, subtle, causal, pure witness, non-dual).

Assuming equal rights and responsibilities in enacting their purpose by BOTH doing what they love to do and are good at, and what the world needs and pays them for.

Make feminine (care, compassion, feelings, relationships) and masculine (rights, justice, rationality, autonomy) validity claims to what is good, true, beautiful, and functional, and only proceed to action when there are a mutual understanding and agreement between them, and all affected people, living and unborn, are considered.

Co-create their love relationship as opposites and equals at the level of all seven chakras in the four dimensions of their being. They not only love each other but even more so what is uniquely co-created between them.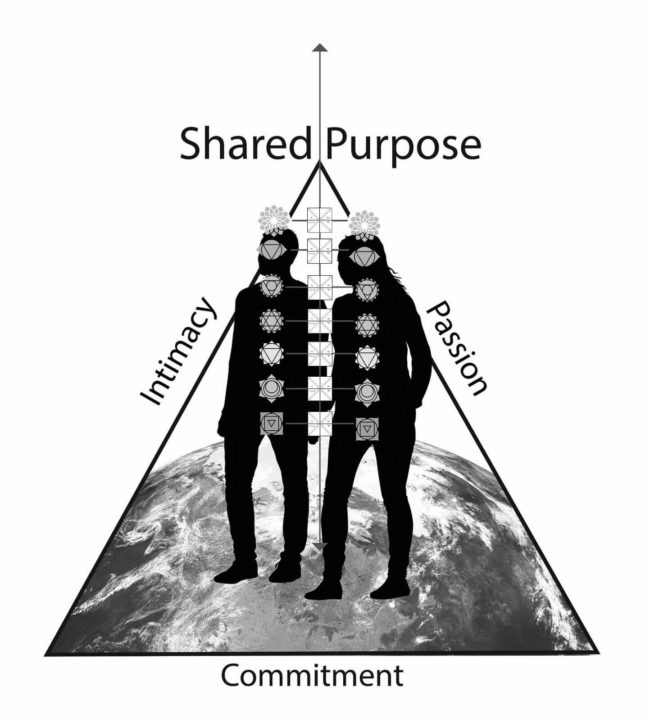 The image above: Integral Soulmate Couple
Soulmate identification and selection process:
About 90% of the population are looking for a partner/soulmate who shares their biological purpose, which leads to transactional love.

About 10% are also looking for a soulmate who shares their growth purpose, which leads to transformational love.

About 1% are also looking for a soulmate who shares their transcendental purpose, which leads to transcendental love.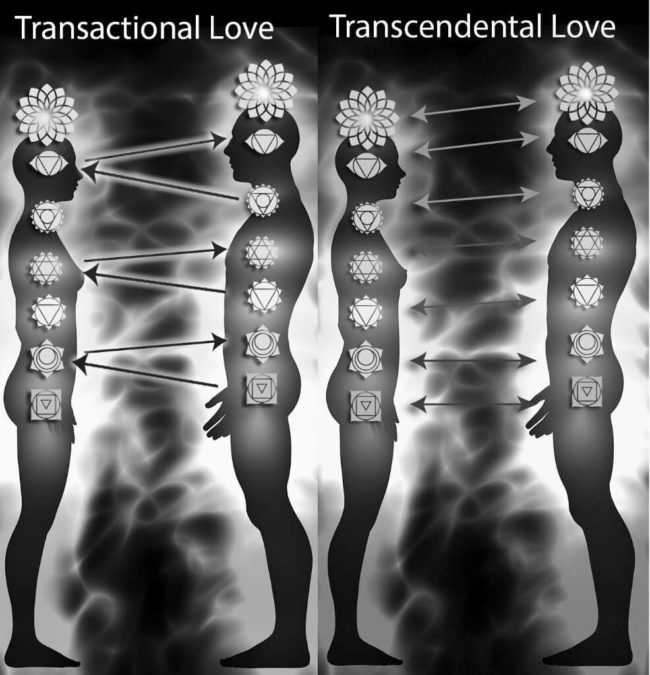 The image above: From transactional to transcendental love
In order to identify, find/attract/invite, and select our soulmate, we need to be clear at what level we want to co-create a love relationship and what potential soulmates are available for; biological only, also transformational, or also transcendental?
Most people take a bottom-up approach, from biological to transcendental. A better approach is top-down.
This is what we will explore and practice in our free Integral Soulmate Event on Sunday, April 4th, and, in much more detail, in our new 26-week Integral Relationship Practitioner, Professional, and Group Facilitator Training that begins on April 8.