Registration for the online workshop "Attachment Styles"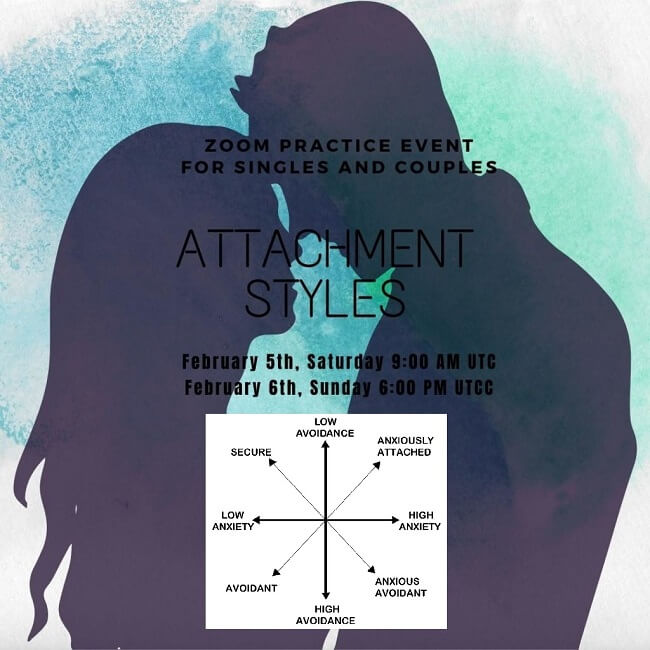 Learn and practice through a test how you and others react differently under relationship stress. There are four general attachment styles that are formed in early childhood and impact our adult life. Secure, anxious, avoidant, and anxious/avoidant (also called disorganized or ambivalent). Once one of the styles is established, it stays with us and shows up in the ways we form or avoid intimate relationships. Understanding attachment styles is essential, because of the insights they offer how partners may be emotionally limited in their capacity to relate. This understanding can greatly help us to realize in what areas we need to heal to become more securely attached in our love relationships.
Where: Zoom
Duration: 2 hours
Price: $30
Date/Time:
Saturday, February 5th, 8:45 / 9:00 AM UTC (12:45 / 1:00 AM PST - 3:45 / 4:00 AM EST - 9:45 / 10:00 AM CET)
 Sunday, February 6th, 5:45 / 6:00 PM UTC (9:45 / 10:00 AM PST - 12:45 / 1:00 PM EST - 6:45 / 7:00 PM CET)*
Use this to convert UTC to your local time.
*Due to the diversity of the attendees' time zones, we are offering you to join the workshop either on Saturday or Sunday, so that you can select the time that suits you better.
The host of the event is the German-American author, trainer, and relationship consultant - Martin Ucik.
You will receive a Zoom link and a payment link after you fill in the form below.
Important: You will have to make the payment before the workshop starts to be able to attend and participate. 
Registration form

Important Note: If you submitted the form before Saturday, Feb. 5 please submit it again to receive the Zoom and Payment link.